Kobe Wants to Win, Wants Out of LA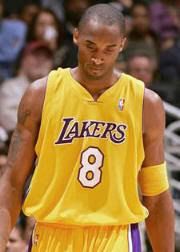 He made it about as official as it can get — writing on his website Sunday. In a post titled "The Truth: A New Road Ahead," Kobe explains that he and the Lakers have a different vision, resulting in Kobe's wish to play elsewhere.
But, the ONE THING I will never sacrifice when it comes to basketball is WINNING. That is plain and simply what it's all about. It's in my DNA. It's what pushes me to work as hard as I do. It's my daily passion and pursuit.

The more I thought about the future, the more I became convinced that the Lakers and me just have two different visions for the future. The Lakers are pursuing a longer-term plan that is different from what Dr. Buss shared with me at the time I re-signed as a free agent. I have seen that plan unfold for the last three years and watched great trade opportunities come and go, and have seen free agents passed on. That has led to the Lakers not winning a playoff series. All of that was frustrating in itself, but then, this week to have someone "inside" the Laker organization try to blame me in the media for us not being a contender right now — that is what brought me to my current position today.
I can respect a player who wants to win, and a player who wants to win now. I can also believe that Kobe was somewhat duped by Buss (the Lakers would've dealt with insufferable backlash if they had let Kobe go). But I still maintain that Kobe ruined a good situation. He is responsible for the Lakers' rebuilding movement. There is one other issue with Kobe that truly irritates me.
How does Kobe get off distancing himself from the recent failures of the Lakers? Kobe wrote:
That has led to the Lakers not winning a playoff series.
Kobe is the leader of the team, the franchise player. The one who takes the most shots and scores the most points. Yet he disgustingly assumes no responsibility for the team's performance over the last couple years.
What does he think he is, an innocent bystander here? If I'm writing the story, it's proper for me to say what Kobe wrote. But it's not a third party writing it — it's a first person account of someone who directly impacted the Lakers performance. And to not include himself in the failure further proves my point that the guy is just not a leader. How does he come off not taking any responsibility for those recent failures? What a loser.