Kobe's Done Playing GM with Lakers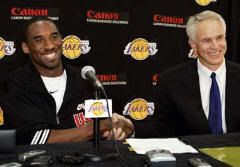 If you remember, and it's pretty hard to forget, last summer was Kobe's Armageddon. There was the flip-flopping and questioning whether he even wanted to be a Laker. But then Andrew Bynum started putting up double-doubles, and the tension was eased. And once Pau Gasol was acquired, Kobe was campaigning for Mitch Kupchak to be Executive of the Year. Or something like that. Well now that the Lakers have a pretty complete team that looks set to make a deep playoff run for the next several seasons, Kobe says he's done telling Kupchak how to run the team:
"I'm comfortable with what we have," he said. "Whatever Mitch decides to do, he decides to do. It's more of a relaxing summer for me because I know we have an opportunity to win. It's exciting.
…
"You're all trying to see if I'm going to do Mitch's job for him this summer," Bryant said, smiling. "I'm not. I leave it up to him. He's done a great job of building this team."
Danny Ainge got a ton of credit for building the Celtics. He won the accolades and his team won the title to boot. But Mitch Kupchak deserves a lot of credit for not trading Kobe despite the demands, drafting and holding on to Bynum, and acquiring Pau Gasol. And, another reason why I think Kobe made those comments, is because he and Mitch are probably on the same page about Lamar Odom already. And outside of moving Odom, I can't imagine the Lakers making many changes.