Is Mike Brown Misusing LeBron?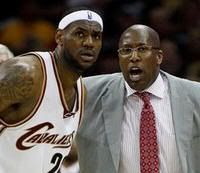 I dunno, I saw 45 points, a Game 7, and the Cavs making it to the Finals last year. Seemed to me like LeBron carried his squad well last year, and even overachieved with what he had this year. Seems to me like he has stellar numbers and plays well. But that's just me, the casual observer, who follows boxscores and watches only the final 10 minutes of games. But I'm the type of person who Matt Watson says doesn't see what he sees: Mike Brown and the Cavs are misusing LeBron James. Watson's been saying it for a while, and he quotes basketball author Brian McCormick who feels the same way.
[Boston's defense looks] good because the Cavs put LeBron in positions to fail. He gets the ball 30 feet from the basket, nobody moves and the entire defense plays him. They run down the shot clock so he is forced to take terrible shots.

Now, LeBron is not perfect. He can only shoot jump shots going to his left. If he dribbles right and has to shoot a jumper, he puts it behind his back to his left hand and steps back for the shot.

Why are the Cavs afraid to shoot in the first 14 seconds of the shot clock? Why doesn't James post-up? When he does get the ball near the post, however, he always reverse pivots to the baseline side, rather than to the middle, which takes away space and makes for a tougher shot or move.
I'm not watching the games in enough detail to pass fair judgment on the issue. I see LeBron passing the ball to teammates that aren't making shots. I saw LeBron missing all kinds of outside jumpers during this particular series. And I've also seen LeBron take over games with his coach seemingly getting out of the way to let LeBron do his thing. So rather than Mike Brown being on the hot seat, maybe Danny Ferry should be because he needs to get LeBron some better teammates. What do you think, should my cousin Mike be on the hot seat?
And even though the Cavs won't be in the NBA Finals this year, the playoffs will continue to excite. Make sure you check out our site sponsor, Ticket Solutions, for all your NBA Playoff Tickets. They got your NBA Finals tickets covered, your Boston Celtics tickets, and your Detroit Pistons tickets in case you're interested.