Magic Player: We're Better Without Dwight Howard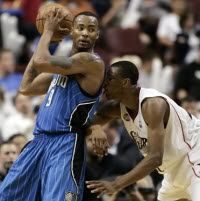 I'm sure Dwight Howard, not to mention Stan Van Fidgety, will be pretty ticked to read this quote. The Magic beat the Sixers to close out their first round series 4-2 on Thursday night. Orlando made a habit of building up huge leads in the series only to blow games in the 4th quarter. This time they didn't, winning 114-89. They also happened to be playing without Dwight Howard and Courtney Lee — two members of their starting five and an MVP candidate in Dwight. Because of the easy, blowout win, some people are wondering if the team is better without Howard:
"They're actually better without Dwight Howard," Sixers guard Andre Miller said. "One of their players told me that they were better without Dwight Howard. They said the ball moves quicker. They're not standing around a lot."
OK, maybe that happened to be the case for Thursday night's game, but there's no way that Orlando's better off without Howard. Maybe the Magic won big on Thursday night because they're a three-point shooting team and happened to have their best three point night of the series shooting 12-26 (46%). The team won Game 5 despite shooting a less impressive 35% from long range, thanks to Dwight Howard's 24 boards, 10 on the offensive ends. Game 4 was a three point win and Orlando only shot 30% from the threes. They shot 26% in Game 2 and 40% in Game 3, a win and a loss, respectively. In their Game 1 loss, they shot just 28% on threes. Have I made my point well enough?
For one game they played well without Howard. In the long run, there's no way they're a near 60 win team, there's no way they compete with Boston and Cleveland, and there's no way they're better off without Dwight. I think people are getting carried away by one good performance. Matter of fact, I know that is the case. By the way, I'm guessing it was Gortat who made the comment. Doesn't he get to start if Dwight isn't playing???