Sonics Impersonator Gets Some Tail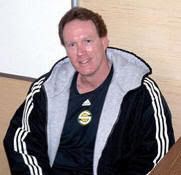 Not that you didn't already know it, but some people can be creepy. Really creepy. Take for instance Ronnie Craven. Mr. Craven has been professing to be one Jeff Turner, a former NBA player. I've never heard of Jeff Turner, and I'm guessing you haven't either. I guess that's what makes it perfect for Craven's purposes. For instance, if you were planning to lie to some chick, telling her you're Jeff Keppinger from the Reds works a little better than saying you're Ken Griffey Jr., capiche? Well, Mr. Craven knew what he was doing all along. He said he was Turner and that he was an employee in the Sonics front office.
"I am going to be honest with you. I don't work for them," the man who posed as Turner said from his home in Somerville, a Boston suburb, when reached by the Seattle P-I on Monday. "(The situation was) all brought on by an online dating thing. Craigslist. I lied to her. Does that mean I can go out there and represent the Sonics? No. Does that mean that I did it to get some (sex)? Absolutely."
…
"This wasn't meant to be (anything negative) toward the Sonics," said Craven, who said he has three daughters, is separated from his wife and works in property management. "People get lied to all the time. Did I do anything illegal against the Sonics? No. Did I go out and represent the Sonics in any fashion? I'm not actually proposing that I did that. Did I do this for the broad? Yes."
From now on, when someone asks you why you lied, just tell em "I did it for the broad." And in case you were wondering, when I'm doing my online dating, I just tell chicks my name is Drew Magary and their clothes come flying off. Works all the time.
(via Ben Maller)