Mayweather vs. Hatton: A Clash Along Racial Lines?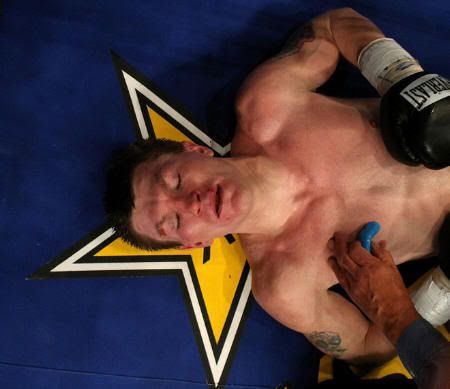 The thought hadn't even entered my mind until late Saturday evening, after Mayweather had already dominated Hatton. I was going for Hatton because I had picked him to win, figuring his combination of power, brawn, and desire would catch an unprepared Mayweather by surprise. I was wrong, but not disappointed. To be upset over an American beating a foreigner in international competition would be unpatriotic, would it not? Well, it was suggested to me Saturday night that support for each fighter was divided upon racial lines — all white guys rooted for Hatton, and all black guys wanted Mayweather. Hispanic fans I guess chose one side or the other, just waiting for Miguel Cotto to get his shot.
As I said, I wanted Hatton to win so as to vindicate my pre-fight analysis. The reason I lost confidence in Floyd, a man whom I've backed since his up-and-coming days as a 130 pound featherweight nearly 10 years ago, is because of the way I had been burned before; Mayweather was dominating opponents the way Roy Jones Jr. once had in his weight class, developing a reputation as the best pound-for-pound fighter in the world. Roy quickly became bored with his competition and pursued other interests including professional basketball and music, and wound up getting exposed by Antonio Tarver. Just a few months ago, I saw the same thing in the works with Floyd who was more focused on preparing for Dancing With the Stars than boxing. So was race a dividing factor in this fight? For some, perhaps. For others, myself included, I think it's Floyd's pretentious personality that's a turnoff.
No doubt though, Floyd showed his masterful skill in the ring, living up to his nickname by finished the fight looking pretty. Hatton hardly landed any big shots on Floyd, who maneuvered his way out of the corner of the ring to dance around in the center and utterly dominate the fight. Floyd's speed caught Hatton off-guard on several occasions, making it seem like Ricky walked into punches. Floyd is the best fighter in the world right now, but he still has a few more fights to take before his legacy is cemented. Next up should be Miguel Cotto, followed by the new Sweet Pea, Paul Williams. Though Mayweather has quickly amassed a fortune of earnings in the sport (back-to-back $25 million fights tells you the sweet science is alive and well), his place in the history books remains in question. I'm guessing it's only a matter of time before Floyd loses focus and falls unexpectedly to an opponent. After all, it's happened so many times before, hasn't it?
(incredible photo courtesy Al Bello/Getty Images)