Oscar De La Hoya to Dress Up as Ring Card Girl?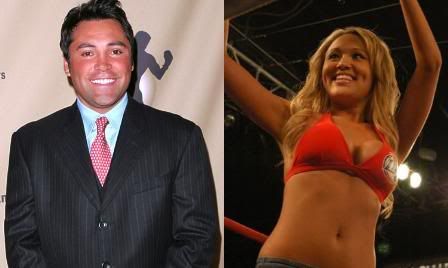 I've seen people do lots of stupid things when faced with some sort of a challenge, but I don't recall the last time the terms of a bet involved Oscar De La Hoya dressing up in a bikini. I guess when you're promoting some crap fight between a couple of dudes I've never heard of, you gotta break out all the stops. And that's exactly what Oscar De La Hoya, and fellow promoter Sugar Ray Leonard are doing. From a press release I received promoting the Juan Manuel Marquez/Rocky Juarez card on September 15th at the MGM,
The winners of the bouts will decide the winner of the bet between De La Hoya and Leonard with both decorated fighters agreeing that the loser will provide ring card girl duties between the first and second round of the main event. If it's a draw with one bout a piece for each side, De La Hoya and Leonard will share ring card duties.

…

"I can't think of a better way to top off a night of "Fireworks" than by seeing Oscar climb into the ring during the Marquez vs. Juarez fight dressed as a ring card girl. I know I'm not the only one who wants to see that," said Sugar Ray Leonard, Contender Series Host.
So yeah, it depends on the outcome of two fights. I'm just hoping Leonard's guys win. Hmm, Oscar in drag as a ring card girl? Twoeightnine is going to have a field day with this one. I'll say this much though — Oscar will have a tough time looking sexier than this guy.
UPDATE: The fight has been called off due to an infection on Marquez's hand.  Hmm, maybe Oscar thought twice about his bet huh?
UPDATE II: You may be looking for alleged photos of Oscar De La Hoya dressed up in drag.  De La Hoya's people are claiming the photos are fake.