Baron Davis Takes Jab at Steve Lavin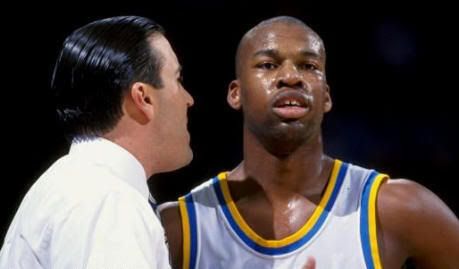 As dedicated readers of LBS well know, I am not above expressing my opinions of Steve Lavin. Yes, he's a nice guy who always treated me well, and he's a good analyst on TV. But one detail should be understood: he was not a good coach at UCLA. Considering he along with Bob Toledo contributed to my uncanny run of horrid athletic performances by the basketball and football teams while I was a student in Westwood, I harbor quite a disdain for the man. Anyway, for all you supporters of Lavin (and there were many of them), check out this comment by Baron Davis:
UCLA products Baron Davis and Matt Barnes were back in their old haunt as the Warriors held their shootaround at Pauley Pavilion.

As things wound down, Davis started needling Cal grad John Murray, the Warriors' strength and conditioning coach. "Look up there," Davis said, nodding at the UCLA's 11 championship banners. "That's tradition. That's the little brother beating up the big brother."

Then Davis got rolling. Talking about his own time with the Bruins, he took a swipe at Marin native Steve Lavin, saying, "We should have a banner up there: the only team to make the tournament without a coach."
That was from last week in the Contra Costa Times online, and later spotted in the LA Times by Bruins Nation. How incredible is that? I'm guessing that's a comment Baron made and figured was off the record. Putting reporting ethics aside, I would venture to say that's indicative of many player's attitudes from the Lavin era. And I think we all now know why Baron only stayed in school two years — and it's not because he struggled in his Poly Sci classes.
Chest Bump to Deadspin