Just How Crooked Was the Memphis Basketball Program Under Calipari?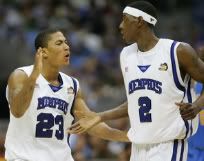 We've already discussed some of the alleged violations committed by the Memphis program regarding Derrick Rose's bogus SAT test. I indicted John Calipari saying that he likely knew what was going on with Rose. When the report about Rose having his high school grades changed came out, it only further confirmed my suspicion. Well now there's a report by Gary Parrish suggesting that four-year forward Robert Dozier also had SAT issues but was still accepted by Memphis:
According to a source, Dozier took the SAT once before trying to enroll at Georgia, but that score was flagged after the school received a tip that the score might be "fishy." At the time, Georgia was still dealing with charges of academic fraud under Jim Harrick and determined to be extra careful with everything. So the school asked Dozier to take the SAT again, and a source with knowledge of the situation told CBSSports.com that the second score was "not enough to resolve the issue." Put another way, Georgia officials were not properly convinced the first test and second test were taken by the same person, which led to the end of Dozier's time as a Georgia recruit in August 2004.
That sounds like it all makes sense to me. Dozier wound up committing to Memphis for a second time about a month after his second SAT test. Before that, he attended Laurinberg Prep along with three other future Tigers. That makes me wonder what kind of shady relationship Memphis and Calipari had with this Laurinberg Prep. Regardless, whatever doubt that may have existed regaring Calipari's knowledge of Rose's issues have now been eliminated. This is what we call a disturbing pattern, my friends. But as long as he continues to bring in the top quality players, Kentucky won't care. That is, until the NCAA comes investigating, which they already should be doing.