DePaul Apparently Has Dreams of Ben Howland as Their Coach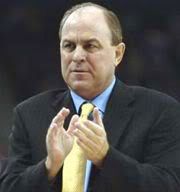 Commotion has exploded around the UCLA basketball scene today amidst reports that DePaul University has thrown major bucks at current Bruins coach Ben Howland. DePaul is making it known that they're willing to pay for a high-quality coach. The Blue Demons endured four losing seasons in five years before firing coach Jerry Wainwright mid-season en route to a 8-23 season. They were 0-18 in Big East play two seasons ago and went 1-17 in conference this year so they're obviously looking for major improvement. Though Howland could move to Chicago and position himself to become the savior once again, keep in mind that DePaul hasn't won more than 22 games in a season for 25 years; their potential for greatness is low and nowhere near UCLA's. In essence, I treat this story similarly to the way I view St. John's efforts to woo Billy Donovan by offering him $3 million a year — it's a nice dream but it won't happen. While I'm dismissing the notion that Ben Howland will leave for DePaul — he's already unequivocally denied interest — I'm not dismissing the notion that Howland has reasons to be dissatisfied at UCLA.
One reason Howland could be less enchanted by Westwood could be the amount of negative press he has received this year, from me included. It doesn't take a genius to realize that going to another reclamation project would relieve pressure and put Howland in position to be a hero again. The second reason is that Howland is vastly underpaid for the type of coach he is. According to most accounts, Howland makes less than $2 million per season which is comparative peanuts for a coach who's been to three Final Fours. It's possible that Howland could be interested in being paid a greater salary, but then Howland would no longer be coaching at his "dream school."
Lastly, would UCLA fans be OK with Ben Howland leaving based on the poor season? To me, the answer is the same any time a team fires a coach or is contemplating letting one leave: is the replacement a better coach than the predecessor? As frustrated as I've been with Howland's coaching the past few years and even at times during the glory seasons, I'd still want Howland as my coach for the next two seasons over most others. Here is my initial limited list of guys I'd take as the replacement were Howland to leave: Tom Izzo (never going to leave MSU), Roy Williams (ditto Izzo), Bill Self (same thing), Bruce Pearl, Thad Matta, and Scott Drew. I don't know who else could be available (e.g. former NBA coaches), but I'm trying to maintain perspective. I also say Ben Howland should have two more years to get things back to normal before we think about new coaches. Believe me, I would have been more forgiving had they never redone the season ticket system and demanded massive donations. When you demand that kind of cash from your fans you should be held accountable for producing a winner.
Sources:
ESPN: DePaul "Offered A Whopping, Multi-year Deal" To Ben Howland [Bruins Nation]
Theus a candidate at Auburn, UCF [Pat Forde College Basketball Nation]