Steve Lavin Knows: Blogs are Watching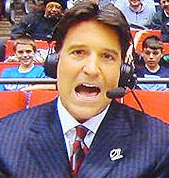 I was watching the Purdue/Illinois game on Saturday on ESPN with Dave O'Brien and Steve Lavin providing the commentary. Lavin was talking about UCONN and how he expects them to go on a run now that Jim Calhoun is back. The production team then brought up a graphic regarding tournament regulars in danger of missing The Big Dance. Those teams included Arizona (13-12, on the verge of missing the tourney for the first time in 26 years), UCONN (5-9 in conference), North Carolina (3-9 in the ACC), Oklahoma (13-12 overall), and UCLA (12-13 overall). It's pretty well known that UCLA has been horrendous this year, especially by their standard. Lavin, as a former Bruins coach who generally speaks positively about his former school, played it safely in his commentary:
Lavin: And Ben Howland still in the mix in terms of the conference race but has struggled overall. He's done a nice job adjusting in Pac-10 play going to a zone defense (cut off by O'Brien)

O'Brien: Struggling? Yeah, you're being kind there. It's been an awful year for UCLA.

Lavin: Of course Dave, if I said that, I'd be getting lit up on the blogs tonight so I tread carefully.
Well Steve, just wanted to let you know that the blogs indeed are watching and they appreciate your careful treading. Matter of conjecture, both announcers were right; as O'Brien said, it has been an awful year for UCLA. Regardless of how many studs they lose to the pros, they shouldn't be below .500 this late in the year. Losing to Cal-State Fullerton, Long Beach St, and getting blown out by Portland is pretty much unacceptable. As Lavin pointed out (and it may have taken a six-game losing streak), Howland has adjusted and done the unthinkable by incorporating a zone defense in conference play. Yes the Pac-10 is down this year because several players have been drafted recently but at least the Bruins have reached the point of respectability in the conference. Also, let it be known that Lavin is almost always complimentary of UCLA and Ben Howland. For a guy who got fired by the school and replaced with Howland, it probably isn't easy to speak as positively about UCLA as he does and I respect Lavin a lot for not holding hard feelings.