Jimmy Clausen Won't Be Healthy to Start Spring Practice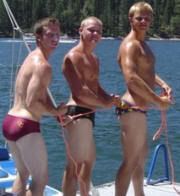 If you read my old blog at Foxsports.com, then you already know what I think about Jimmy Clausen and the disgusting levels of hype he received prior to arriving on Notre Dame's campus. Now, thanks to commenter JS, I see that the Golden Boy with the Golden Arm won't be fully healthy when spring practice starts tomorrow, thanks to an undisclosed arm injury.
Jim Clausen Sr. said his son's injury was discovered last summer. "We've been aware that this was an issue," the elder Clausen said. "He played 15 games with the problem this past season, so you know he's a competitor. But I think at the end of the season, he started to lose some velocity. At some point, if it's causing that much discomfort, we'll see what other option is best."
This is already a bad sign for Jimmy, but not surprising. I always say that the hype in high school means nothing when you get to college.
Just look at Kyle Wright — the consensus top QB in the nation coming out of high school. Last year he was benched at Miami in favor of Kirby Freeman!
Are we looking at the next Ron Powlus? If his arm doesn't heal, I think so.