Nebraska Deserved 76 Points on Them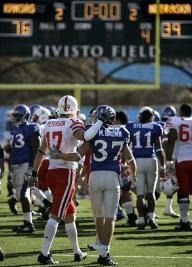 I had a caller over the weekend crying on the phone because Nebraska got blown out by Kansas Saturday. How could they dare hang 76 on his beloved Cornhuskers, he whined? Well, on the same weekend that Notre Dame suffered the ultimate form of disappointment — losing to Navy at home for the first time since the effing Revolutionary War — another team got the proper dose of medicine it deserved. Nebraska, the biggest culprit when it came to running up the score and embarrassing its opponents throughout the mid-90s, got a 76 spot hung on them by the Kansas Jayhawks. Yes, the same proud basketball school which might not even score 76 in a given hoops game, rang up a 76 on Nebraska, and it was beautiful.
This is the same Nebraska powerhouse that went 8-0 against KU in the 90s under Tom Osborne, outscoring the Jayhawks by a 454-86 margin. They slapped Kansas around 63-7 in 1996 and probably never thought twice about it. That same '96 season, Arizona State avenged an embarrassing 77-28 loss the previous year in Lincoln with a 19-0 Jake Plummer special in Tempe. It might take more than a decade, but what goes around obviously comes around. Getting crushed 76-39 by Kansas — a former laughingstock of college football — is unheard of in the Big 12 world. It was well-deserved and well overdue. Welcome to 4-6 hell Nebraska. Sucks to be down, doesn't it?
(Photo Courtesy Charlie Riedel/AP)