Pete Carroll Backtracks on Mark Sanchez Trashing, Calls it a Test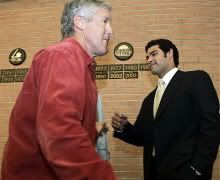 I gave Pete Carroll the benefit of the doubt the first time around when he strongly disagreed with Mark Sanchez's decision to leave school early for the NFL. I understood that Carroll was motivated by his desire to run a strong program and also his desire to see Sanchez develop more before going pro. I also speculated that the move could hurt Carroll in recruiting since recruits would see that Carroll doesn't always support their decisions. That must be the case because Carroll looked like Deion Sanders backpedaling off his initial comments when he spoke at Sanchez's pro day:
"He made a point to really go to bat for Sanchez," a scout said. "You could tell he meant it."

Carroll told the group that his public frosting of Sanchez — including the comment the player made a "bad choice" — was meant to test his resolve, to see if he truly had his heart set on turning pro right away or if he would waffle. Sanchez didn't waver.

"He told us, 'I challenged him. I wanted him to make the right decision,' " the scout said. "He said, 'I love the kid. I support him. I think he'll make a good pro.' "
If there isn't more of a b.s. line that the one where Carroll said he was testing Sanchez's resolve, I don't know what is. Carroll should have kept his feelings to himself from the start so as not to reflect poorly upon himself or Mark because he ended up making both look bad when he questioned the decision. Ultimately I don't think Sanchez's stock will be adversely impacted by the remarks. Clearly Carroll now realizes the error of his ways. That excuse was just too lame though — we could have done without it.