A Third Assault Case for Roethlisberger?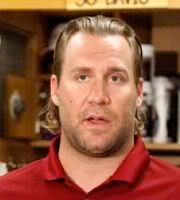 It's almost like piling on Steelers quarterback Ben Roethlisberger at this point. On top of the Lake Tahoe sexual assault civil suit allegation Roethlisberger faces and the Georgia sexual assault allegation he escaped, a Boston lawyer now says Roethlisberger had a third similar sexual assault case in Las Vegas. From WEEI in Boston:
"Six months ago I was retained by a client of mine and a close friend to investigate allegations against Ben Roethlisberger in a Las Vegas nightclub that were absolutely identical to this Georgia girl's story," said [Boston attorney Harry] Manion, a partner at the firm of Cooley Manion Jones, LLP and a frequent guest of WEEI. "The outcome was that the young woman did not want to proceed, and we did not take any action. There is a history here — and I can't say any further because we never proceeded with it — but there is a history here that is just super troubling."
Sounds to me like there was a payoff so that an investigation was not launched, just like I feel there was a monetary settlement reached in the Georgia case, as Mike Florio also felt. Hush money may have protected Big Ben to this point, but as we've seen with Tiger Woods, paying people off only protects you to a certain extent. After that point, how you treat(ed) people becomes more of an issue once your status as a hero has been stripped. That's precisely what happened with Roethlisberger so I wouldn't be surprised if this isn't the last negative story we hear about him. Lastly, I really don't see how Commissioner Roger Goodell (or at the very least the Steelers), cannot suspend Roethlisberger at least two games for the negative attention he has brought the League and the franchise. Isn't that what the code of conduct policy is all about, even if criminal charges weren't filed?
Of course, the same lawyer is now backing down maybe realizing he's made slanderous claims.
Sources:
Boston attorney on Roethlisberger: 'There is a history here that is just super troubling' [WEEI]