Richard Sherman gave Jim Harbaugh a tap on the rear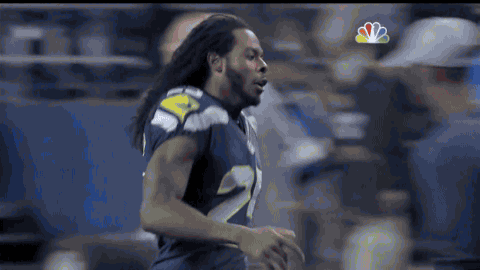 Richard Sherman was in a celebratory mood after the Seattle Seahawks wiped the San Francisco 49ers 29-3 on Sunday night.
Sherman intercepted a Colin Kaepernick pass in the fourth quarter to help ice the win. He also shut down Anquan Boldin, holding the Niners wide receiver to one catch for seven yards. The brash trash talker told fans and pundits after the game not to doubt the Seahawks again. He also was so proud of his performance, he made sure to chase down Jim Harbaugh, his college coach at Stanford, after the game.
Sherman gave Harbaugh an "I got you" love tap on the behind. Harbaugh was frustrated and embarrassed with his team's performance, but turned around to give a what's up to Sherman.
Though Sherman played for Harbaugh at Stanford, he has had negative things to say about his former coach. Sherman called Harbaugh a bully last year in response to Harbaugh's comments about the Seahawks DBs receiving PED suspensions. Sherman said he wanted his Seahawks to run up the score on the 49ers last season. He also said in July that he doesn't mess with the Niners coach.
NBC's Cris Collinsworth added more regarding the relationship. Collinsworth said Sunday night that Sherman straight up dislikes Harbaugh. According to Collinsworth, Sherman believes Harbaugh had negative things to say to NFL teams about him during the scouting process, which caused the defensive back to drop in the draft.
That's the first time I'd heard that story.
Sherman was a 5th-round pick of the Seahawks (No. 154 overall) in 2011. For what it's worth, Harbaugh and Sherman had positive things to say about each other that year.
Here's a quote from Harbaugh about Sherman in Dec. 2011:
"He's a talented, talented athlete. He loves football. He has a real respect for the game."
And here's Sherman on Harbaugh in Feb. 2011 to SB Nation:
"Great motivator with endless energy and enthusiasm…A players coach.
"I feel like he did everything he could do at the school. He left it in a great standing and he had dreams that he wanted to pursue and I respect that."
The love tap wasn't Sherman's only bold move during the game. He also danced with some cheerleaders after his fourth quarter interception: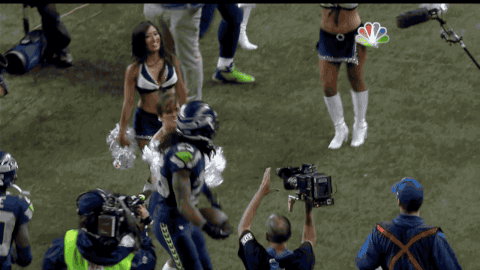 Below is his postgame interview with NBC, where he tells people not to doubt the Seahawks anymore.
GIFs via Bleacher Report 2