Taylor Lewan accuses Josh Norman of trying to injure Derrick Henry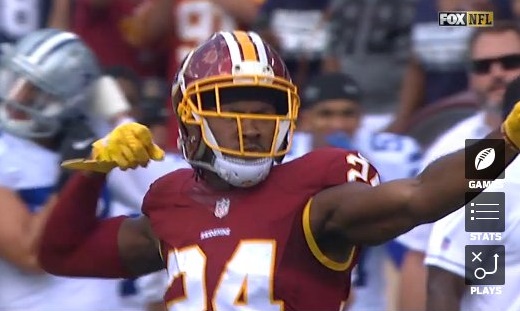 Josh Norman and Taylor Lewan got into a heated postgame confrontation following the Tennessee Titans' 25-16 win over the Washington Redskins on Saturday night.
Video from NBC Sports Washington shows Lewan going up towards Norman after the game and mocking his bow and arrow celebration. Norman took offense to that and got into Lewan's face in response.
Things got HEATED between Josh Norman and Taylor Lewan postgame. pic.twitter.com/HXCE6zRSzj

— NBC Sports Redskins (@NBCSRedskins) December 23, 2018
Asked about the confrontation following the game, Lewan said he approached Norman because he thought the Redskins DB had tried to injure Derrick Henry late in the game.
Here's what Lewan had to say about what led to his bow-and-arrow moment with Norman:
"I was pissed. He was trying to hurt Derrick during that four-minute. That's BS. That's not the way football is supposed to be played. It's not our fault your not relevant anymore." https://t.co/ZScHwAU3N0

— John Glennon (@glennonsports) December 23, 2018
For what it's worth, Henry said he did not feel Norman was trying to hurt him.
Henry says he didn't think Josh Norman tried to hurt him.

— John Glennon (@glennonsports) December 23, 2018
Lewan seemed like he was just trying to troll Norman for fun and gloat over the victory. Norman did not like that at all. Lewan just enjoys getting in the middle of things.