Interview with Karina Smirnoff, Dancing with the Stars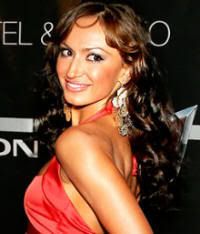 Typically I like to keep things pretty sports-centric around here, but since like 20% of the country watches Dancing with the Stars when it's on TV, I figure some of you have to be one of those one-in-five watching (unless we all make up the other shmoes watching SportsCenter). Anyway, I had the pleasure of speaking with Karina Smirnoff, one of the best dancers in the world. She just made FHM's 100 Sexiest list, and she's dating A.C. Slater from Saved by the Bell. Karina's in the middle of her fourth season on the show and has been partnered with boxing star Floyd Mayweather Jr. in the past. I asked her what it was like for Floyd to take orders from a woman, how tough this whole dancing thing really is, and how much funny business goes on behind the scenes. Our interview follows, and make sure to vote for Karina Monday night and Tuesday morning (text 3405). And if you're not going to vote, just remind your wife, girlfriend, and kids to do so. Besides, do you really want Jason Taylor or Kristi Yamaguchi whatever to win? Didn't think so. OK, check out the interview …
Most of what everyone sees is just the final product from all the work and practice. How much time and how much preparation goes into getting ready for a performance?
It actually takes a lot of time, we practice about 8-10 hours a day. Not every celebrity's natural ability to dance is the same. For those that struggle, you spend a lot of time trying to get the steps down. For those that are able to do it, you put in extra time because you know they can do that much better. So it takes a lot of work, firm muscles, and sore feet, but the end product usually is what you're striving for.
Compare preparing for the show with a celebrity partner with preparing for an international competition with a professional partner. Is it about the same type of workload?
It's similar, but it's also different. When you're practicing for an international competition with a professional partner, you kind of understand each other without talking. The level of intensity and detail that goes into practice on a professional level is a lot higher, so going into rehearsal and practicing 10 hours with a professional partner, you'd probably collapse at the end of the day. When you're working with a celebrity partner, you're making it a priority to make sure that they look good and that they look like they know what they're doing.
You've worked with a wide range of celebrities. Which genre of celebrity seems to have made the transition to being the best dancer?
Usually it's either an athlete because they're used to the discipline and the work that is required to be good at what they're doing. Also music — usually people who can sing naturally have a sense of rhythm. Like with Mario right now — he's an R&B singer and he has a natural feeling of rhythm.
You were paired with Floyd Mayweather Jr. last season. We've seen him be very skilled in the ring, what was he like as a partner and a dancer?
Honestly, I got to see a side of Floyd that was completely different from what you see in all the 24/7 series or in the boxing ring. He does have a big heart, but he kind of plays a lot into the character he's portrayed as in the boxing world. It's hard for him to walk away from that character because then he feels he's walking away from his comfort zone. He could have been very, very good — he could have been good enough to win this whole thing easily. He does have the ability, he does have the rhythm. But for him to be vulnerable in front of millions of people was not easy, and every time he kind of came across an obstacle or difficult step in dancing, he would say 'I'm a boxer, what do you want? I'm a boxer.' So it wasn't easy, but it was definitely very enlightening and educational.

So would you say he was putting on a front and fitting into a role and character, and that he wasn't being genuine all the time?
First of all, he's not used to listening to a woman preach and tell him what to do, so that was a little bit difficult for him to comprehend in the beginning. And then coming into the ballroom world of dancing when you're not from that world, you have to kind of let someone guide you through it — at least in the beginning. Floyd kind of didn't fall in love with listening to me tell him what to do. Second of all, as soon as he would get into that competitive mode when it was all couples together, he would kind of stand back.
When it comes to the show, how much is it campaigning for votes and how much is it based on the actual dancing? What was the disappointment like for you and Mario [Lopez] when you lost in the finals?
Mario was hands down a better dancer than Emmitt [Smith] and everybody knows and sees that, but this is not purely a dancing show. It's as much a personality and popularity contest as it is a dancing show. And as much as I like Mario, he's nowhere near the popularity as Emmitt Smith — he's a three-time Super Bowl winner and a household name. The only thing that was weird was they had Emmitt playing the underdog role, and I thought that should have been the other way around. Honestly, I had no idea who Mario Lopez was before the season started, but I knew who Emmitt Smith was, and that says a lot.
Wow, Mario Lopez was in Saved by the Bell, I figure most of the voting audience would have known who he was.
Maybe, but I remember Zach Morris from Saved by the Bell, I didn't remember A.C. Slater. Now I remember, but when they told me I had Mario Lopez as my partner, I had a picture of George Lopez in my head … I was like 'Oh shoot.'

So what did Mario think of that? Have you told him this story?
Well, I told him some of it, but I didn't tell him that I remembered Zach Morris from Saved by the Bell more than him — I didn't go into all the details. I did tell him that I didn't know who he was when they told me I had him. I told him that I had a picture of George Lopez because he and George are very good friends. So when I told that story to George, he loved it. He said 'I can't believe she knew me but didn't know you.'

Being on the show, what has it done for you in terms of your celebrity status?
Well, the show's been amazing for dancing in general. It's brought out ballroom dancing to the level where people know what it is. Even though dancers knew who I was, I wouldn't have people come up to me on the street saying 'We love you, we love the way you dance.' And now it happens on almost a daily basis and it's amazing, it's flattering.
One of those perks it seems like — FHM released its 100 Sexiest list and you made it — what did you think?
I didn't know — I got an email from a friend saying congratulations. That's huge, 100 women in the whole world and I made the list? It kind of felt surreal, when I looked at the picture I had to remind myself that it was real.
I know you're with Mario, but our readers want to know, what is your taste in guys?
I don't think I have a certain type in men, as long as they are extremely strong personality and character and they know where they're going and how to get there, I think it's kind of sexy. It's like the reason why women love James Bond — he's so cool and he kind of knows everything and he knows how to read women and treat them. I've always been attracted more to darker guys — darker hair and darker eyes, I've never been crazy about blond hair, but there's always a first!
Working with a partner, you spend all that time together, all these hours. How easy is it for stuff to develop romantically?
You know, when producers pair you up with your celebrity they're actually trying to fit your personalities together so you automatically become good friends if your personalities match. And when you do spend a lot of time in a dance studio with the same person literally attached at the hip, it's not that hard to develop certain feelings. But you have to remind yourself that it is a show, it is a job, and even if you do find your dance partner attractive, you kind of know that it's just a three-month relationship and then you kind of move on to the next celebrity. You kind of develop feelings for every person you get paired up with, you pretty much go into a serious relationship three-four times a year.
How many times have you caught someone trying to put a move on you. And be honest here.
Honestly, it's an old role story — a doctor and a nurse, the teacher and the student — usually it's up to the teacher to make that decision of not going further than is necessary and keeping it professional. As a teacher, it's not something new so you know how to handle it.
OK, let me ask you this. What if I were to say it's just dancing, how hard can it be? People do it in a club, what's the big deal? What would be your response?
Well first of all, clubs are not prime-time national television with millions watching. And besides that, it's live, so if you mess up they see it. And then you're put in a vulnerable position in front of the judges who criticize you and call you names and pretty much make fun of you in front of half the country. So it's a lot more nerve racking and I don't think it's even comparable to going to a club. And on a pure dancing level, it's not easy. It's multi-tasking to the beat of the music, doing the right steps, and moving in-sync with another person you've just met. So it's a lot of hard work.