Wimbledon Bans Homer Simpson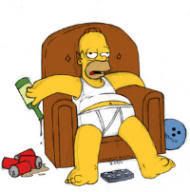 Ben Maller had one of those great notes from his rumors page on Foxsports.com. The headline pretty much says it all. Taking it straight from The Sun's Wimbledon diary:
HOMER SIMPSON has been barred from the All England Club. Fans outside were given posters advertising the new Simpsons movie but had them binned by security guards as it was "aggressive marketing".
Come on lads, in the spirit of fun, you're shutting down the Simpsons? If the fans had come with sixers of Duffs for all would that have at least changed things? I would think so. First you had a chick get busted for wearing the wrong color underwear, now this. Those Wimbledon chaps need to lighten up a bit.