Delusional Andruw Jones Blames Frank McCourt for His L.A. Departure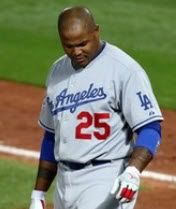 During a weekend where the Lakers won the NBA Championship, it was easy to let other stories slip through the cracks. Luckily my boy Anders(on) Varejao came through by sharing the comments Andruw Jones made this weekend when the Dodgers were in Arlington to play the Rangers. The LA Times says Jones is still bitter about being booted from LA and blames owner Frank McCourt for his fate:
Jones said he started to get the sense that he was on his way out of Los Angeles when he met with McCourt before undergoing knee surgery last May.

"It was disrespect," Jones said of the way McCourt spoke to him. Jones said he was upset when his agent, Scott Boras, told him in the off-season that McCourt was looking into ways to void his contract. While acknowledging that McCourt paid him a hefty salary, Jones said the owner had no right to complain about a deal that was mutually agreed upon.

"I got paid that money because that was my value," Jones said, pointing to the numbers he posted in 12 seasons with the Atlanta Braves.
Umm, hold on a second, correct me if I'm wrong but wasn't it Andruw Jones who hit a buck fifty and not Frank McCourt? If Jones had shown up in shape and ready to play then he'd be in LA, cashing McCourt's checks. I'm not a McCourt fan but there's no way not to stick up for him here. What U Jones did last year was totally and utterly disrespectful to the organization. If he had any sort of decency he'd give the money back because he didn't earn it. I can't believe how idiotically Jones views the situation. Maybe all the Golden Sombreros are cutting off the circulation to his brain.