Giants Close to a World Series Run?
Note: This post is written by site contributor Ted Bauer. You can check out his work at A Price Above Bip Roberts, which is one of the great blog names around.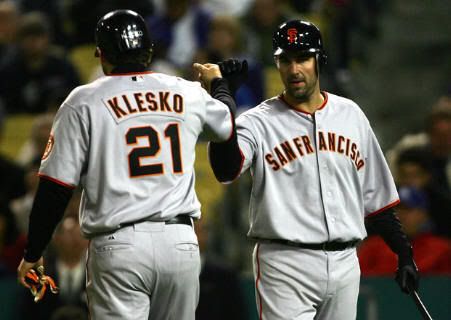 I associate the San Francisco Giants with failure, and not just because of the 2002 World Series, which transpired when I was a senior in college (honestly, because of that latter fact, my memories of said World Series are hazy and vague at best).
No; the issue is deeper than that. See, last April, I went out to San Francisco to visit a girl. I was about six months removed from breaking up with a girl I had been dating 2 years, and I figured the time might be prime to move on. Being based on the East Coast, I didn't expect anything to tangibly happen with this San Francisco girl, besides perhaps a no-strings-attached, "Who's better, Sabean or Beane?" style roll in the hay.
Unfortunately, the first night I was out in NorCal, at around 2am during an 80s Night at some bar, I looked over and saw her making out with another guy.
I had three nights left in town.
On the final night, I attended a Giants game (vs. the Mets, my dad's favorite team). It was cool to be at Pac Bell, or whatever the hell it's called now, but it was lame because Bonds didn't homer – and why else would an East Coast brotha really want to retell stories of his time at Pac Bell? Also, I wore a Mets hat, and these drunken early 20somethings behind me started screaming obscenities at me around the top of the 2nd; it didn't subside until the 7th.
(As a side note, Bonds homered the next day, while I was on a plane. Goddamn it).
For all these reasons, though, I was pretty hard on the Giants earlier this season in my own blog, when they were playing like absolute turds and Barry Zito seemed likely to enter the pantheon of biggest "Large Contract Busts" ever.
Flash forward a bit, and I've softened my view: the Giants, as of Friday afternoon, are winners of eight straight, including two sweeps of teams that will likely be their main contenders in the NL West (sorry, San Diego), Arizona and LA.
I'll spare you a broad analysis of what the Giants are doing right, but to keep it simple, it comes back to pitching: San Fran barely averages 3-4 runs a game, but their bullpen has been solid, after getting shelled by Colorado about a week and a half ago, and their starters aren't half bad, either. Matt Morris, who most people likely forgot was still alive let alone playing competitive baseball this side of Hong Kong, is 3-0; Matt Cain, the hyped young starter, has a pedestrian 1-1 record but also carries a 1.55 ERA; Armando Benitez, who single-handedly caused my dad to break our TV on two separate occasions during my life while with the Mets, has 7 saves; Zito has rebounded to look strong at 2-2.
Overall, the team's 3.21 ERA is third in the National League.
This is good news for a bunch of people. Dave Righetti, who was my favorite Yankee when I first started following baseball (every time I went to this one restaurant in New York, I ordered the meatloaf dish that was somehow named after his July 4th no-hitter), deserves more attention as a top-flight pitching coach / future managerial contender. Brian Sabean, who's been overshadowed by Billy Beane in the Bay Area for much of the last decade yet has 1 pennant to his zero, also deserves a season of renown for his personal legacy.
And of course, the man that San Francisco swells around (no, not Russ Ortiz), Mr. Bonds. See, the greatest thing about Bonds right now is that as long as other storylines around the Giants – the development of their pitching, them being better than the As – dominate the headlines, he can approach Hammerin' Hank quietly. Granted, once he gets to 750 or so, it's over; all hell breaks loose, and Buck and McCarver are out there every day. But, for now, he can do it in relative peace, which is a term he probably hasn't heard in the same sentence as his name without the words "disturbing the" for quite some time.
Here's another, final, thought on the Giants of '07: the All-Star Game Paradigm. In '03, the White Sox hosted the Midsummer Classic; two years later they won the World Series. In '04, Minute Maid Park was the site; the next year the Astros got swept in that same World Series. In '06, it was PNC Park in Pittsburgh; I hate the Pirates, but if they can win 79 games, I wouldn't rule them out in the NL Central. My point, however loosely, is thus: when you host the All-Star Game, within 1-2 years, you're relevant in the grand scheme of things. Looks like the Giants might be a tad ahead of schedule.