King Felix Hernandez Stole the Show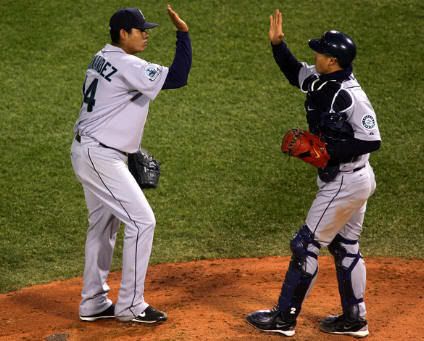 On what was supposed to be Dice-K vs. Ichiro night, it was the other pitcher who stole the show. In what was supposed to be the biggest regular season game by Japanese players in Major League Baseball, it was the wrong pitcher who shined. He was supposed to be an afterthought, an ignored man. He was supposed to allow an 8th inning home run to Manny or Papi so that Matsuzaka could get the win in dramatic fashion, following 8 scoreless innings in front of hundreds of media members. Papelbon was supposed to come in and shut the door, putting an exclamation point on Ichiro and Kenji's combined 0-8 night. It was supposed to be a glorious night in Boston, with the Fenway faithful rejoicing and celebrating the legend that is Daisuke Matsuzaka.
Instead, what they got was putrid hope. Mere begging that the beloved Red Sox could muster a hit, just one single, measly base knock for that $80 million offense. Felix Hernandez wore his crown proudly Wednesday night, shedding his prince shoals, and ascending to his rightful throne.
On the biggest stage possible, with the whole baseball world watching, Felix Hernandez was brilliant — for the second straight game, only this time, it went noticed.
This time, nobody could help not noticing. King Felix was unbelievable. Two-time Cy Young winner Johan Santana doesn't show that type of stuff. Roy Oswalt doesn't show that type of stuff. Maybe five years ago Randy Johnson had it. Because that's how good Felix Hernandez looked, embarrassing the Boston lineup. Hernandez dialed his fastball to the upper 90s all night long, hitting 97, 98, and 99 on the gun with regularity, even touching triple digits on occasion. Couple that with pinpoint control, and a filthy breaking ball, and it's no longer a fair match for the batter. I can't remember a pitcher looking so dominant since Randy Johnson five years ago. Maybe Kerry Wood before all the injuries.
May health bless this man Felix Hernandez. I can only pray that in three years we won't be talking about that stud who once threw a one-hitter against the Red Sox killer lineup. I truly hope that Felix Hernandez has taken the step into brilliance — distinguishing himself from the pitchers with potential — to the men who are memorable. I hope your reign atop the baseball land is long King Felix, because I was truly in awe.