LBS Baseball Tickets Giveaway from Carl's Jr. Orange Cream Shake
To anyone who reads and/or contributes to the site by telling friends, visiting it, commenting, or passing along tips, your patronage is extremely appreciated. You're what keeps me going here every day. Sometimes I like to try and give a thank you by running contests where the winner receives prize pack giveaways. And now thanks to Carl's Jr. and their new Orange Cream Shake, I can hook one lucky reader up. Here's the deal: Carl's Jr. is going to give one of you coupons for the Orange Cream Shake, a beer cozy, four tickets to either the Angels or Dodgers, a corresponding bobblehead doll, and a Flip Video Ultra F260 Orange 60-Minute Digital Camcorder. Sounds pretty sweet to me.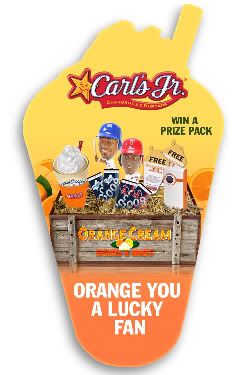 As you can tell, the prize-pack is somewhat LA-centric, so to that end, the contest is targeted more towards the LA audience. The Dodgers have tied a major league record for the longest home winning streak to start a season by going 12-0. Here's how the contest is going to (sadly) work: tell me (in the comments) when you think the streak is going to end and how many total runs will be scored in the game. Whoever gets closest wins the prize pack. Better act fast because the streak could end at any point during this homestand. And don't forget to visit your local Carl's Jr. to try out an Orange Cream Shake!