Ben Gordon and Charlie Villanueva Is the Best Detroit Could Do?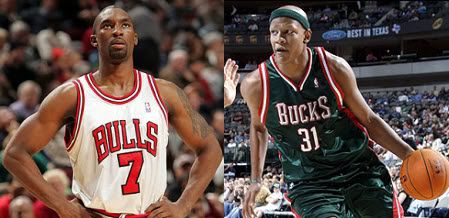 Not too long ago I was praising Joe Dumars for recognizing his team wasn't good enough to beat the elite teams in the East and that he needed to change it up. What I didn't envision was him using the available cash he freed up under the salary cap to spend on Ben Gordon and Charlie Villanueva. By most accounts, the Pistons have agreed on a five-year $55 million deal with Ben Gordon, and a five-year $35 or $40 million deal with Villanueva (there are differing reports).
Maybe it's just because I'm not a Ben Gordon guy that I don't like what Detroit's doing, or maybe it's because they spent $10 million a season on a sixth man who's a gunner and not a ball-handler and doesn't play much defense. Maybe it's because I prefer Rip Hamilton and can't envision them paying Gordon $10 mil per and telling him he's coming off the bench meaning Rip's probably gone. Now Villanueva's a decent deal because he can score and board and he comes at a reasonable price as a Rasheed Wallace replacement. The thing I'm missing is the size issue. Where's their inside presence? Don't they need one? Maybe I should be patient to see what they add next year before I completely judge because this has to be a work in progress.
The Pistons coaching situation also needs to be determined. They took way too long to fire Michael Curry. It seemed pretty obvious that his decision-making skills were lacking when he kept Iverson in the starting lineup and brought Rip off the bench for as long as he did. I know they're recruiting Avery Johnson and I like him as a coach, but I just can't imagine the new personnel really buying into Avery's defensive mindset. I don't see that as a great fit. They need to get tougher inside and Dumars has to recognize that. At this point, they remain a non-factor in the East.