Charles Barkley the Benevolent: Pays for Busboy's College Tuition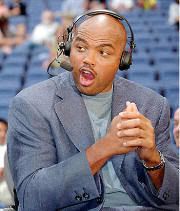 So recently we may have given Chuck a tough time for his unwavering opinion of the paparazzi, though he is partially right about them. I mostly stayed away from his gambling stuff because well, let's be honest, I used to hit up an online sportsbook, too. Yet for all the negative reporting about Chuck, he did do something pretty incredible for which he deserves notice. Chuck paid for the college tuition of a busboy at an Italian restaurant in Philadelphia that he frequents. From the Philly Daily News:
[Christian Abate]'s worked as a busboy for eight years at Saloon (750 S. 7th), where he struck up a friendship with one generous regular at the Italian restaurant who volunteered to pay his Temple tuition.

During a visit to Saloon last summer, Charles Barkley asked Abate how he was enjoying teaching, and was disappointed to learn that Abate had still not returned to Temple because of problems securing financial aid. Abate, 28, of South Philly, started at Temple in 1997, months after graduating from St. John Neumann High.

Sir Charles told Abate he would like to help him with his tuition, and Abate wasn't sure how to respond. Barkley didn't give him much time, telling Abate that he had the length of Barkley's meal to decide. Abate wisely accepted.
Apparently Chuck's really generous with his money when it comes to education, having given a million bucks to his old high school in Alabama, as well as Auburn where he went to college, and another high school in Birmingham. He may throw some of his money to waste, but at least he's pretty benevolent when it comes to positive things like education.