Cleveland One-Ups New York, Brings in Chinese Market for LeBron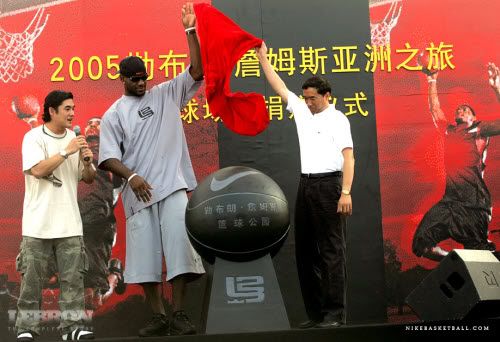 All the talk surrounding the summer of 2010 and the possible exodus of LeBron James has quieted down recently for the most part. I'm guessing it's because the Cavs are in the hunt for the NBA title while the Knicks are at home. Either way, the more and more good things start to roll the Cavs way the more it seems like LeBron would be leaving something good behind if he left Cleveland in free agency. If an MVP, best record in the league, and deep playoff run aren't enough to keep LeBron in his hometown, then maybe the latest move by the Cavs is — they have allowed a Chinese company a minority ownership stake in the team:
According to multiple NBA sources, the team's central new Chinese investor is New World Development Company, a Hong Kong-based conglomerate. It has over $21 billion in assets in hotels, convention properties, department stores, telecommunications, infrastructure projects and even financial services mostly in Southeast Asia.
…
In other words, it is a financial powerhouse with numerous ways to take advantage of its pending investment in the NBA. Combined with Cavs owner Dan Gilbert, whose Quicken Loans company weathered the mortgage crisis and emerged with more market share, the Cavs potentially will have some of the deepest backing of all the teams in the NBA.
Well there you go. Between the MVP, the elevated TV ratings, and the global marketing in China, I would have to say that the Cavs have every angle covered. What more could LeBron want now? I think it's becoming harder and harder for him to leave and if things keep rolling the way they are he's not going anywhere.
Thanks to SpinMax who had this story on Friday … if only he could translate Chinese.