Magic Considering Having Jameer Nelson Play Against Lakers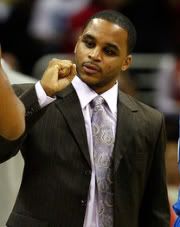 Now that they've reached the NBA Finals, a potential once-in-a-lifetime opportunity, the Magic are trying to break out all the stops. With that in mind, they're entertaining the idea of having point guard Jameer Nelson suit up for the series. Team president Bob Vander Weide is looking for any edge possible against the Lakers:
"The chance to get an all-star point guard on the floor for 15 minutes a game … you'd have to look at that."

The Magic had ruled [Nelson] out for the season and the playoffs, and as late as a week and a half ago General Manager Otis Smith said there was no chance of Nelson making a return. "That was a week and a half ago," said Vander Weide, who said he wanted Nelson to take another MRI and consult with doctors.
I don't care how clean the MRI comes back, there's no way you could bring him back all cold and rusty and then thrust him back into competition — at the highest level no less. What kind of shape would he be in? Would he be able to run up and down the floor? Would he be able to guard someone? How would his shot look after four months off and no training program? This seems to be a pretty dumb idea. Now the reason they're so desperate to bring him back is because he dominated the Lakers during the regular season. Nelson went for 27 and 28 points in both of Orlando's wins against LA, shooting 59% against them from the field and 58% on three-pointers. I don't care if he was MJ against them, bringing him back all ice-cold would be a terrible idea. They have to roll with what they have right now and hope it's good enough. I think it will be.