Phil Jackson: Dennis Rodman Is a Hall of Famer 'Without a Doubt'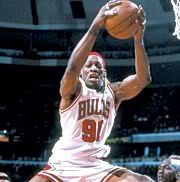 Last year's class of players inducted into the Basketball Hall of Fame was amongst the best ever — Michael Jordan, David Robinson, and John Stockton. This year's class features likely inductees Karl Malone and Scottie Pippen. It could also include one of the strangest players to grace an NBA court — Dennis Rodman. Rodman used to say he didn't care about the Hall but as recently as two years ago he admitted it would "be something special" to be inducted. Former teammates Isiah Thomas and Scottie Pippen supported his candidacy, as did Kareem Abdul-Jabbar. And on ESPN's Sunday Conversation, Rodman's former Bulls coach Phil Jackson joined the chorus. Magic Johnson asked the question and here was Phil's response:
"Without a doubt, doubt, doubt, doubt. People don't understand that what he did and he was a rebounding phenomenon and incredible defensive [player]. And a smart player. Incredible, incredible. People don't consider that, they don't understand what makes Hall of Fame players."
When you examine Rodman's on-court resume, it's pretty impressive. Consider the following: Rodman won five championships, was a two-time All-Star, two-time NBA Defensive Player of the Year, and 7-time rebounding champion. The dude averaged over 13 rebounds per game. Unfortunately for him, he'll always be remembered first for what he did off the court and that's something he brought on himself, but if you base things purely on what a player did on the court, Rodman probably deserves to be in. Defense and rebounding isn't glamorous but they're key elements to winning.