Stephon Marbury Would Like Eddie House to Think About Life, Not Basketball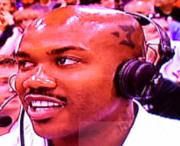 We already knew that Stephon Marbury was out there. And by out there, I mean from a different planet. He's responsible for one of the weirdest interviews I've ever seen, and he also owns one of the oddest tattoos I've seen as well. And apparently he picked up some Phil Jackson literature in the offseason because he's become quite the philosopher lately. Witness his jawing with Eddie House of the Celtics in their pre-season game:
After Marbury drew a foul on Kendrick Perkins and hit two free throws, he turned and screamed at House, from midcourt: "You're a bum!"

When play returned to the Celtics' side of the court, House chirped, "Don't worry about me. You better worry about Ray Allen," whom Marbury was guarding. Marbury shot back, "You're nothing!" then added, "You're caught up in basketball. Get caught up in life."
That is incredible. Seriously, of all the things in the world, why should House be worrying about basketball, right? Couldn't he be out helping starvation in the world instead or putting sneakers on kids' feet one at a time? A nice find by Straight Bangin', passed on by M. Watson, proprietor of the greatest Detroit Pistons blog around. It's nice to know where Steph's head is at.