Stephon Marbury Wants to Play in Italy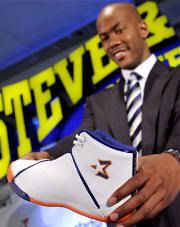 We're already well aware of how insane Steph can be at times. We also know how cool he can be with his cheap Starbury shoes. But the latest exclamation by Marbury is way out there. It might just take the cake. He told the New York Post that he wants to play in Italy when his contract with the Knicks is up. Specifically, Steph elaborated in a blog post that he wants to "spread the Starbury Movement." Can I get an amen to that?
During the Olympics, David Stern told us about how big basketball was becoming around the world. He was right. Now I want to make it even bigger for the United States.

For my 14th pro season, I want to go when I can still go hard and give the people what they want. I'm looking at how David Beckham is getting love for coming here. He's 32. I'll be 32 at the end of my Knicks' contract. Imagine if someone told him not to follow his heart to play soccer in the U.S.

I want to do the same thing for basketball and spread the Starbury Movement so people all around the world can benefit. I want to make things affordable for everybody.
Just what the rest of the world needs — more Stephon Marbury. I do like what he says however, that he's taking advice from Jim Brown in going off on his own note. If anyone knows about leaving at the right time, it's certainly Brown. Hey, if Steph wants to go out there and live his dream, more power to him.