Mascot Fight: New Mexico State's Pistol Pete Rumbles with Utah State's Big Blue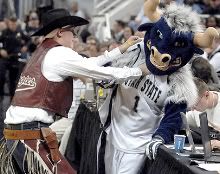 As you all have come to know pretty well, any time there's an incident involving mascots, it's going to end up here on LBS. Something about grown men being upset that they dress up in fury costumes for a living and taking it out by fighting must really pique my interest. The last college basketball mascot incident was when the Rice owl got ejected at a game for harassing a referee. This one was probably better than that. From The Sporting Blog:
During a timeout with 7 seconds left and New Mexico State leading 70-69, Utah State's mascot, "Big Blue" the bull, confronted New Mexico State's "Pistol Pete" cowboy mascot and ripped off his fake mustache. The cowboy then chased the bull to halfcourt, jumped on his back and tried unsuccessfully to pull him to the floor. "Pistol Pete" then started to try to choke his rival before retreating to his end of the court.

Several newspaper photographers covering the game said they heard a man in a Nevada shirt offer the Utah State mascot $100 to go grab the mustache.
ESPN does have a short video clip of the fight, but then you'd have to endure a segment of Michele LaFountain, something I try to avoid whenever possible. As for the fan that would pay $100 to see a mustache ripped off another mascot, he must hate 'em more than me. That's pretty funny.