Pacman Jones Had His Nuts Grabbed During Pileup Against the Browns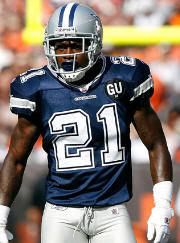 You always hear about the dirty play that goes on at the bottom of the piles — biting, scratching, clawing, hair pulling — seems like everything is fair game. I've even been told that the best place to hear grown men scream is in one of said piles. That's why it was no surprise to read Pacman Jones' comments following the game against the Browns on Sunday. From The Dallas Morning News Cowboys Blog via MDS at PFT:
Adam "Pacman" Jones said the Browns did a lot of cheap stuff in Sunday's game. DB Nick Sorenson grabbing and squeezing Pacman's groin region topped the list.

Pacman said that act occurred in the pileup after he muffed a punt.

"I told that dude, 'Man, you're lucky I'm trying to do better, because I would have got 15 yards for kicking your [rear],'" Pacman said.
PFT now says that it wasn't Nick Sorenson who was squeezing the juice, but does it really matter? Obviously someone was trying to cause a fumble in there. And seriously, it must be nut-shot week at LBS; between Pacman's junk and UTEP's long snapper, we've certainly filled our quota for the week.