Favorable Calls Tipped Baylor Game in Duke's Favor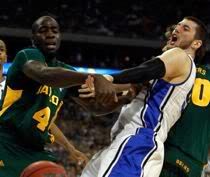 Pete Gillen famously mused that Duke is "on TV more than Leave it to Beaver reruns." Perhaps his statement should be amended to say, "Certainly Duke is Duke, they get more favorable draws and favorable calls than anyone," because that's how I feel after seeing the Blue Devils advance to their latest Final Four. Give the Blue Devils credit for having an excellent regular season and winning four games in the tournament but I can't get past a couple of issues.
The first issue is one about which I complained on Selection Sunday and many times before — Duke got a favorable seed and favorable draw. They were the third number one seed — ahead of Syracuse despite the Orange's undisputed more impressive resume — and they somehow avoided the top two number two seeds in Ohio State and West Virginia. Not only did they receive a struggling Villanova team in their bracket (losers of five of seven entering the tourney), but they also got Purdue as their four seed — a team that struggled to score once they lost Robbie Hummel to a knee injury. The NCAA took care of their part, Duke did theirs.
The second issue is one that tipped the South Regional finals game in Duke's favor — favoritism from the refs. Although I felt like the game was called evenly the first 35 minutes or so, three calls in the final five minutes helped take the ball out of Baylor's hands and give Duke more opportunities for victory. Let's go over each one.
The first controversial call that went Duke's way was at the 4:37 mark of the second half. Baylor was up 59-57 and had the ball following a Udoh block. In transition, Quincy Acy passed up a jumper to drive baseline towards the hoop. Duke center Brian Zoubek slid to the baseline to try and draw a charge call which he did. The call could have gone either way. Had it gone Baylor's way, they could have gone up by two possessions and Zoubek would have been fouled out. It went Duke's way and the Blue Devils took the lead on a Nolan Smith three pointer. Duke went on a 15-3 run after this call.
The next controversial call happened two possessions later. Following a Udoh floater to give Baylor the lead 61-60, Tweety Carter was whistled for a foul — I'm not really sure why but I'm guessing because of a reach. I'm still trying to figure out the reason. Officials can call fouls on many plays if they really want to but they generally allow guys to play otherwise everyone would be fouling out. They chose to whistle Tweety and that put Nolan Smith at the line who went one of two. It also was Baylor's 10th foul, putting Duke in the double bonus. Duke went on a 12-1 run after this call.
The last controversial call happened when the game was somewhat out of hand, but it nonetheless completes the picture. With 1:19 left, Jon Scheyer was trapped and called a timeout. Upset that LaceDarius Dunn was still close to him after the timeout, Scheyer swung his elbows at Dunn to create space. Quincy Acy saw Scheyer throw the elbow and raced over to get in the middle of things. After watching replays and debating, the officials called a technical giving Scheyer two free throws and Duke the ball with a 10 point lead. How Scheyer wound up with nothing called on him is inexplicable.
My last point has to do with the claim that Baylor's failure to rebound allowed Duke to win. I don't disagree; second chance opportunities plus Duke's three point shooting keyed the win. But why was Duke so successful on the offensive glass? It probably helped that Baylor 7′ center Josh Lomers was called for five fouls in only nine minutes on the court. Three of his fouls were legitimate while two were sketchy. His first foul — they said he threw an elbow at Zoubek — was petty considering how physical Zoubek is and it should not have been called. His fifth foul occurred in a crowd of three and was wrongly attributed to him on a Kyle Singler drive. Heck, even on the dumb foul where he landed on Jon Scheyer, the contact did not occur in the act of shooting and therefore Scheyer should not have been awarded three shots as he was.
Yes Duke is a very good team and yes they played quite well but the exact same thing can be said about Baylor. The only thing Baylor didn't have in their favor was the NCAA. Who can blame them for that?