NCAA Needs to Change Celebration Rule that Burned Jake Locker and Washington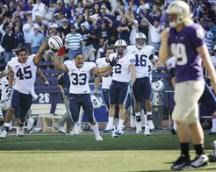 One of the biggest controversies on Saturday was the way the Washington/BYU game finished up. With the Huskies down 28-21, Jake Locker scored on an awesome scramble where he eluded several defenders. Elated to have scored on the last play of the game, Locker tossed the ball up behind him after getting into the endzone. Locker wasn't showboating nor showing up his opponents; he was uber-excited and semi-celebrating. Still, the NCAA rules say you must throw a flag for excessive celebration if a player tosses the ball up in the air after scoring a touchdown. Locker's antics pushed the point after touchdown attempt back 15 yards, making it a 35-yarder. BYU blocked the extra point and won the game, 28-27. I usually jump on players for celebrating touchdowns, so I understand flagging guys for misconduct. But if Jake Locker's costing his team 15 yards for what he did after his score on Saturday, then the rule needs to be tweaked. Here's what the referee who made the call said:
"After scoring the touchdown, the player threw the ball into the air and we are required, by rule, to assess a 15-yard unsportsmanlike conduct penalty," Pac-10 referee Larry Farina told the Washington athletic communications staffer. "It is a celebration rule that we are required to call. It was not a judgment call."
Well, there needs to be some sort of looser interpretation of this rule, where it becomes a judgment call to decide if someone was really celebrating excessively, or merely elated by the exciting moment. I won't go so far as to blame the referee for ruining Washington's season or costing Tyrone Willingham his job — the Huskies had 59 minutes to win the game — but they did get screwed by the penalty at the end. Still, how hard is it to hold your blocks for a half second on a field goal?? And in case you haven't seen the sequence, check out the video from the game to judge for yourself:
Video of the finish via Ballhype.