Ol' Ball Coach Unimpressed by Georgia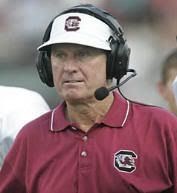 It's one thing for a coach to tell pundits not to get excited about a hot start. But it's a complete other when your way of doing so is to rip your opponent. That's exactly what Steve Spurrier did following South Carolina's win this weekend, stirring the pot as he's done quite a bit this year:
It wasn't like they were some big, powerful team," Spurrier said on his television show Sunday. "They've actually lost five in a row to Eastern Division opponents. Kentucky and Vandy beat 'em last year."
Preach on, brother Spurrier. Talk about telling it like it is. Let me just say this much for Spurrier: good thing he gets Georgia at home next year — he's going to need every advantage he can get.
(via Fark)