The Only World Series that Matters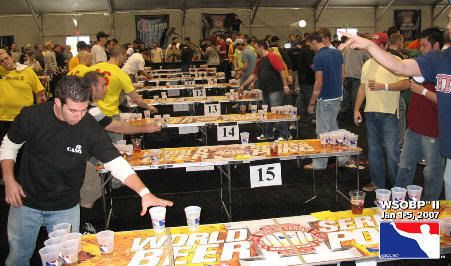 First, HG had news at You Been Blinded that Nintendo Wii was coming out with a beer pong game. Now, I guess we know why. It was so everyone could start practicing for the third annual World Series of Beer Pong in Las Vegas:
Sign ups begin this week for the third annual World Series of Beer Pong (WSOBP), a three-day competitive beer pong extravaganza with a $50,000 Grand Prize—the largest prize in the history of beer pong. This year's event will be held January 1 – 5, 2008 at the South Point Hotel, Casino & Spa in Las Vegas, Nevada.

Last year's WSOBP attracted over 500 players from 38 states and three Canadian provinces, and this year's event is expected to yield even more.
You wanna hear some weak ass ish? They're only putting water in the cups! The 'effs up with that? Either way, I'll have to pass this along to the good ole boys of DTD. Rush week just finished up — they should be in mid-season form. Anyone care to field a team?