Is There a Cover-Up for Positive Drug Tests at NFL Combine?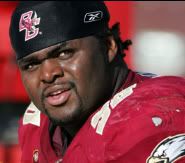 I can't remember the last time members of the media got stories of great magnitude flat-out wrong like they did with this one. Maybe it was when a TV station erroneously reported that Albert Pujols was on the Mitchell Report and later got reprimanded. It's been reported over the past month that there were 25 or so failed drug tests at the NFL Combine, be it for steroids, weed, you name it. One of the players said to have failed a test was Boston College DT B.J. Raji. Raji's agent vehemently denied the failed test but what else would you expect from his agent when both of them stand to lose tons of money because of the report? To further complicate matters, the report was released by Sports Illustrated — a very reputable source — and it was later removed from their website. In a more sketchy situation, a website called NFL Draft Bible reported that the likes of Percy Harvin, Brian Cushing, Clay Matthews, as well as Raji had positive drug tests.
Now weeks after reports surfaced that all these players had positive drug tests at the combine, Pro Football Talk has league sources telling them none of the players listed above tested positive. I'm really beginning to wonder whether or not there's a cover-up going on. Which side do you trust? I often believe that "where there's smoke there's fire," but now I'm having my doubts. Is it possible that SI and Draft Bible just ran with tips from poor sources and that it was easier for them to do because Raji failed a test while in college and Cushing has long been suspected of using steroids? I don't know what the answer is, but I do know that websites need to be 100% certain they have correct information before publishing stories, considering what's at stake. These players could lose millions of dollars if they slip in the draft because of speculation they had positive tests. It's hard to know which side to believe. For now, I'm giving the players the benefit of the doubt, thinking that they're owed a huge apology.