Lance Briggs Might Sign With Bears, Has Hell Frozen Over?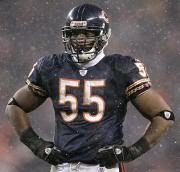 Yeah, this is the same guy who said he would never play for the Bears again, and that he would do everything in his power not to be with the organization another year. I mean seriously, I have never seen someone speak so adamantly about a topic before (except for maybe this). And then Tuesday, the report comes from the Chicago Tribune that Lance Briggs and the Bears are close to a deal, and that Briggs might report to training camp on Thursday.
Reached on his cell phone, Briggs said "no comment" when asked if he had agreed to sign the one-year contract tender worth a guaranteed $7.2 million and report on time Thursday to the start of training camp in Bourbonnais.

But earlier in the night a Bears teammate who had spoken with both Briggs and a league source said the linebacker had agreed to sign the deal and avoid a holdout the Bears had been dreading.
…
Among them were believed to be the possibility of paying Briggs a large portion of the $7.2 million up front, which would serve as a smaller signing bonus. The Bears also have offered to rescind the franchise tag on Briggs for 2008 if he agrees to end the impasse and begin what they believe can be a Super Bowl season.
Well, it's almost like the Bears hold him hostage, because they could just franchise him again in '08, so this part of the deal would make sense. But seriously Lance, you seemed so passionate, so persuasive. What happened? This is a disappointment for me, and probably a huge relief for Bears fans. Brian Urlacher may be the big name on the defense, but he'd be in big trouble without Briggs right next to him. Briggs is truly a star on defense.