NFL Fixing Games for the Patriots?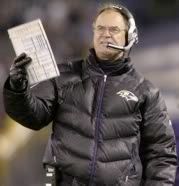 I'm not buying it, but that's what the Ravens are saying. Many of them had strong charges towards the officials following the game, but that's probably because they were so pissed off about losing a game they were winning. It truly was a great finish, and I found myself on edge thinking the Patriots' undefeated season was going down. There was a defensive holding call on a 4th down pass by New England that went incomplete that would've otherwise ended the game. Additionally, there were two 15-yard penalties called on Bart Scott. As you could imagine, the Ravens felt they were fighting an uphill battle against the refs:
Ravens linebacker Terrell Suggs on officiating: "Everybody is kind of cheering for them to go undefeated and break all the records. They called them the greatest offense on earth. So who knows? … They made one more play than us and they got a little help."
…
"It's kind of the feeling of the 2001 tuck rule. It kind of feels like the tuck rule. That is the NFL for you, man. When they got a guy like that that is selling a lot of tickets, you want to keep him selling tickets."
…
Ravens cornerback Chris McAlister on whether the NFL wants the Patriots to win: "They get a lot of calls. I'll say that. We've been watching film on them all week and I mean, they do get a lot of calls. As far as the NFL wanting them to win, you can't totally not think about it in those terms."
I'll say this much, watching the Patriots chase perfection is pretty exciting. Regardless of whether or not you want them to win, the pursuit is intriguing (and their last game is televised by NFL Network). Would I go as far as to say the refs are helping them out? I don't know. The Ravens don't call that dumb timeout, they win the game, and you don't hear these complaints, capiche? If anything, I can remember times when the refs seemed against the Pats. I don't think there's anything to this story aside from bitterness on behalf of the Ravens. And when New England's 16-0, none of this will be remembered (though it is fun to debate).