Paul Hornung Would be Nailing Five Girls a Week if He Were Playing Today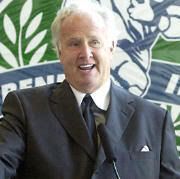 I'm a relative youngster so I guess I wasn't too familiar with the ladies' man reputation that precedes Paul Hornung. And in case you hadn't heard about it, Hornung was there on Tuesday on The Monty Show on Sporting News Radio to remind you. Hornung was talking about the sexual escapades he and teammate Max McGee enjoyed when he was asked this:
Monty: "You guys had a great life, but I don't think you could live that lifestyle today."

Hornung: "Oh hell you could. You're in such good shape, are you crazy? When you're 24-years-old, you weigh 215 pounds, you can work out every day of your life, you could make love to five girls a week and play 44 games of football. Hell."
Think Hornung doesn't wish he could get back into a time machine or that he were born 40 years later? As for how he'd handle things seeing as what happened to Matt Leinart, Hornung said, "Don't get on the internet." Maybe he's only seeing the positives in the equation here. For the record, I could get down with the five girls a week, but I think he has a death wish asking to play 44 games a season. Or maybe he just wants to follow in Travis Henry's footsteps.