Nice to See the Raiders Showed Up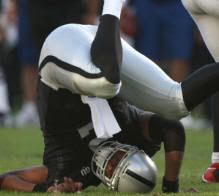 When I saw the 2006 Raiders play, I was convinced it was the worst offense I had ever witnessed in the NFL. While that Art Shell/Tom Walsh 2-14 squad ran out one of the worst offenses ever, the 2008 Raiders run by Tom Cable might actually be in the same category. The Raiders offense we saw on Sunday against the Falcons was in a word, pathetic. In case you missed it, the Raiders lost to the Falcons 24-0. They had -2 yards as a team at halftime. They finished with just 77 yards of total offense and only three first downs. They threw for just 10 yards and ran only 34 offensive plays, keeping the ball for fewer than 15 minutes in the game. It's not even funny how bad they were on Sunday — and that's coming from a Bengals fan. OK, as if the final stats weren't bad enough, these comments from the Raiders were:
Interim head coach Tom Cable said the Raiders had their best week yet of practice and preparation. They apparently saved their worst for the game itself, losing 24-0 to the visiting Falcons on Sunday.

"During the week, we look like we're a Super Bowl team," strong safety Gibril Wilson said. "We come out there and we're damn near the laughingstock of the league, and it's ridiculous."
…
"We did have a good week of practice," cornerback Nnamdi Asomugha said. "Everybody was excited about the opportunities that Atlanta was showing us on film. So it did kind of come out of nowhere."
I sure hope they were talking about the defense having a good week of practice because there's no way I could imagine that offense ever appearing to execute like a good team. I hope Al Davis is satisfied for firing Lane Kiffin, who at least got some respectability out of the team. Davis is getting what he deserves.