Somebody Loves Eli Manning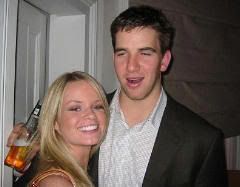 Via The Big Lead, comes the NY Daily News report that Giants QB Eli Manning proposed to his longtime girlfriend, Abby McGrew on Tuesday night. And hold your horses, the paper reports that she said yes (for all of you out there who say he pays for his dates). Now that our man Eli's off-the-market (for the time being), I feel like it's OK to share a story I was told about him a while ago.
Apparently like all ballers who were studs in high school before going off to college, Eli Manning had a girl from back home with whom he hooked up on a regular basis. So on one of his trips back home from college, he had a rendezvous with said lady. The girl apparently had laryngitis or something like that.
Then, as it's told to me, a few days later a group of friends including said girl, were sitting around watching TV, when the news was announced that Eli Manning would be missing that week's game because of an illness — laryngitis. In unison, the group turned and gave the girl one of those priceless "we know what you were up to" looks.
So props to Eli for hooking up back in the day, and for being engaged now. After all, he'll need some serious love and support from the wife when he's getting crucified by the New York media.
And in case you were wondering, I checked Eli's collegiate game log to see when this might have occurred, and he played in every game from '01-'03…meaning if this a true story, it happened in Eli's freshman year. Hope you and Abby weren't dating until after football season of your freshman year!