Tommie Harris Speaks the Truth About Grossman and McNabb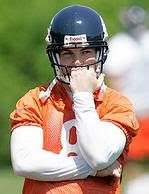 So Tommie Harris is at Donovan McNabb's golf tournament and makes some comments that he'd love to have McNabb as the Bears quarterback, and that they'd win the Super Bowl with McNabb as QB. I'll say this much, he's absolutely right. We're in the off-season for a team coming off a Super Bowl season where their quarterback was the glaring weakness of the squad. McNabb is a perennial Pro Bowler, one of the absolute best quarterbacks in the game. Harris speaks the truth.
If Grossman's feelings are hurt, then too bad. He should spend more time working on his game and less time making New Years Eve plans. Grossman says the two are cool, but there's no way he's not bothered by the comments. He takes enough heat from the media, now he's getting some indirect grief from a teammate. Let this serve as a wake up call for Grossman to get his act together, because what Harris says is accurate.
(Photo courtesy Jim Prisching, Tribune)