What Exactly Is David Boston On?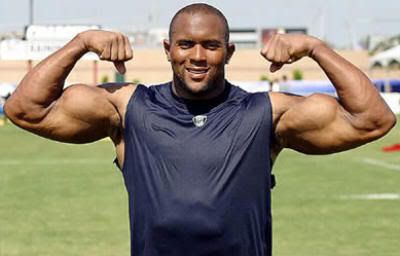 I've always been partial to David Boston because I had him on my fantasy team back in '01 and because the guy has his stool samples analyzed during training camp. That's gotta count for something right? Well, you knew he was a body-building freak, getting penalized for violating the league's steroids policy in '04. And last night, he was busted for DUI.
Boston, 29, was found passed out behind the wheel of a dark red Range Rover in the southbound lanes of 49th Street and Park Blvd around 7:30 p.m., Pinellas Park police Capt. Sandy Forseth said in a statement. The SUV had been in drive. An investigating officer awoke Boston and told him to put the vehicle in park.

After conducting a field sobriety test, an officer deemed probable cause to charge Boston with driving under the influence of a controlled substance or alcohol, according to the statement.
…
Boston was taken to the Pinellas County Jail breath testing facility around 8:30 p.m. He blew triple zeros, Forseth said. The results of a urine screening are pending.
Triple zeros? Like I said, what exactly is he on? Sad thing is, I was just reading on Rotoworld hours ago, that Boston had moved ahead of Maurice Stovall to the starting flanker spot. And now … he may have pissed it all away.
(via who else, but Steroid Nation)