Angel Cabrera Backs Into Masters After Kenny Perry Chokes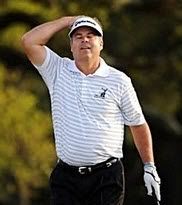 Admittedly, I didn't see all 72 holes of the Masters this week, but I definitely saw Kenny Perry blow the Masters in the last two holes. Perry was up by two strokes with two holes to play after he eagled 16. Perry hadn't bogeyed a hole in his final round leading up to 17. All he needed was a par on either hole and he was set free as the oldest winner of any major at age 48. Instead, Perry hit into a bunker on 18 and saw the green jacket vanish before his eyes. Thing is, despite choking, Perry still had a chance to win it all in the playoff. Chad Campbell bogeyed on the first playoff hole leaving just Angel Cabrera and Perry. Cabrera had even hit straight into the woods on the first playoff hole — he wasn't exactly playing stellar golf. Despite blowing it, Perry says the choke job won't haunt him:
"I may never get this opportunity ever again, but I had a lot of fun being in there," Perry said. "I had the tournament to win. I lost the tournament. But Angel hung in there. I was proud of him."
…
I'm not going to feel sorry," Perry said. "If this is the worst thing that happens to me, I can live with it. I really can. Great players get it done, and Angel got it done. This is his second major he won. I've blown two. But that's the only two I've had chances of winning."
I enjoy Perry's perspective on the issue but it's disappointing that he blew it. Anyone watching the telecast saw his wife and daughter, so you can probably understand why he can live with it — he's already pretty well set. And by the way, am I the only one wondering how Tiger and Phil wound up in the same pairing Sunday? Based on their respective scores following the third round, they shouldn't have been matched up together. Gotta love CBS trying to manipulate the ratings and make it more about those two than the actual winner. In this case though, it's hard to really call Cabrera the champion with the way he backed into things.