So Much for Padraig Harrington's Wrist Injury Making Him 50-50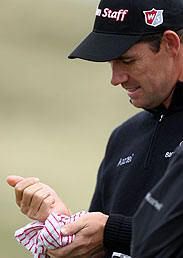 So most people were going gaga over Greg Norman's resurgence at Royal Birkdale where he shot even par on both Thursday or Friday and two over Saturday, leaving him in the lead after 54 holes. All this talk about his brilliance and how his marriage to Chris Evert changed his life and gave him a new mental edge. Yeah, so much for that. If that were the case, then why did he blow the lead like usual? I do have to admit that I was utterly stunned to see Norman's name towards the top of the leaderboard on Thursday. I honestly thought the senior scores were getting mixed in with the regular players because it had been so long since Norman was a contender on the scene. Anyway, Norman managed to turn the attention away from himself come the final round, and the real story was Padraig Harrington.
Last month I was fawning over Tiger Woods much like the rest of the media and viewing public when he battled a severe knee injury to win the U.S. Open. Needless to say, it was a pretty incredible feat. But how about Paddy Harrington? The big story entering the British Open aside from Tiger not being in it and Kenny Perry deciding not to play in it, was defending champ Padraig Harrington's questionable status. Harrington hurt his wrist last weekend working a speedbag in the gym and couldn't even manage more than three practice swings on Wednesday. Harrington even said his chances of completing the first round were only 50-50 and that if it were any other tournament, he would have pulled out of the event.
I didn't get to watch a whole lot of the tournament, only a few holes here and there, but I do know it was just as much of a shock for me to see Harrington's name towards the top of the leaderboard on Thursday, much like Norman. Even more shocking was to see Harrington come from behind to win his second straight claret jug. No asterisk here for a non-Tiger win — Harrington's a legit champ who successfully defended his title. And seriously, how about some love for a guy who won a tournament even though his wrist was so bad he couldn't take more than three practice swings the day before the event? I'd say that's pretty darn incredible.