Many Fellow Golfers Believe Tiger Juiced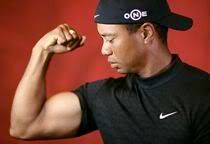 Tiger Woods continues to find ways to look like a model citizen.  The National Enquirer is reporting that Woods' has admitted to having sex with 121 women while married to Elin Nordegren.  Like we expressed with the recent post about the Dale Jr. situation, the Enquirer has been pretty accurate reporting these things thus far.  We'll see if any truth comes of it — not that it matters much at this stage in the saga.  Maybe in Tiger's eyes you cheat once, you might as well cheat 121 times, and that's how the number grew into such an astronomical figure.  Maybe the report isn't even true.  It's not like Tiger can be made to look much worse with regard to his extramarital affairs at this point.
Tiger's admitted that he cheated on his wife.  He made his public apology (whether you feel it was sincere or not), and is trying to move on.  One thing he could conceivably screw up further, however, is the legitimacy of his accomplishments as a golfer.  Last year, Tiger was confronted with accusations that he has used performance-enhancing drugs when a NY Times article linked him to a Canadian doctor whose name was tied to providing performance-enhancing drugs for athletes.  Tiger denied the report, of course, but it seems a good portion of the golfers on the PGA tour aren't buying what he's selling.
According to a Golf.com report, Sports Illustrated recently surveyed 71 PGA tour players in an attempt to get their feelings about some of the major issues surrounding professional golf — including a few involving Tiger Woods.  Of the 71 surveyed, 24 percent responded that they believe Woods "used HGH or other performance-enhancing drugs." Now, it's completely possible that these 24 percent just don't believe anything Tiger says anymore as a result of everything else that has come out over the past months.  It's possible that he just no longer has the respect of many of the players on the PGA tour.  Whatever the reason for their responses, I'm sure Tiger is less than thrilled that he is now going to have to find time to convince people that he has never cheated at golf while attempting to gain forgiveness for cheating on his wife.  Believe it or not, the Tiger Woods saga could somehow get more interesting.
Sources:
TIGER DIVORCE SECRETS: 121 WOMEN WHILE MARRIED TO ELIN [National Enquirer]
Almost a quarter of PGA Tour pros surveyed by Sports Illustrated think Woods took PEDs [Golf.com]