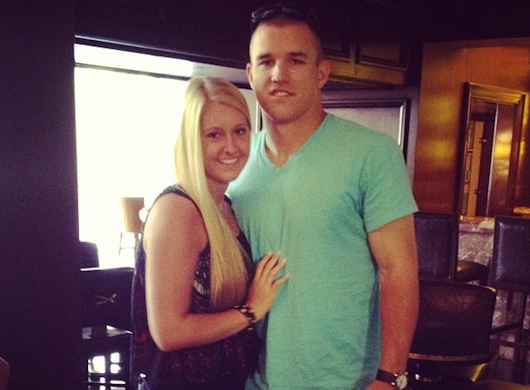 Mike Trout is practically on top of the world right now. He's young, the best player on a playoff contender and an MVP candidate — as a rookie. So who's the lucky lady who gets to be Trout's romantic companion during these exciting times? A supermodel? Pop star? Miss July? Kim Kardashian? Wrong. Wrong. Wrong. Definitely wrong.
No, the Angels phenom is keeping things simple (as most baseball players not named Evan Longoria, Matt Kemp and Alex Rodriguez do) and dating his high school sweetheart Jessica Cox. "I met her in high school, and we trust each other, and she is one of my best friends," Trout told the Philadelphia Daily News, per to PlayerWives.com. "She is somebody I can talk to and is always here for me."
A gloss over of her Twitter page reveals Trouty recently sent her a bouquet of roses with the message, "I love you and miss you." Ah, to be young and in love. Additionally, she is currently vacationing in Bermuda and likes to Instagram photos of bowls of fruit. The life of an MLB WAG!
Here are more photos of these two lovebirds together:
Unfortunate yet unsurprising news for the Titans today, as troubled wide receiver Kenny Britt found himself in handcuffs yet again after being charged with DUI at a military installation early Friday morning.
Britt reportedly was taking a female soldier back to Fort Campbell, an Army post on the border of Kentucky and Tennessee, when his vehicle was stopped at a gate outside of the premises. Guards became suspicious of Britt's driving and conducted a field sobriety test, which confirmed their suspicions. He reportedly declined to take a Breathalyzer test.
Britt was held in custody, though for an unclear amount of time. He was released later in the day after being escorted out of the installation by MPs. His vehicle remains impounded on the post.
By now, Britt is probably used to being in handcuffs (in more ways than you'd think). This is his whopping eighth known brush with law enforcement since being drafted by the Titans in 2009.
When we last heard from Britt he was busy leading cops on a police chase last year then getting arrested for something totally different the day after appearing in court for said police chase.
Britt somehow managed to escape suspension by the league last season, despite being a multiple offender. Hard to see him not feeling the wrath of his buddy Roger Goodell this time.
50 Cent has now joined the likes of Don King, Bob Arum and Oscar De La Hoya by founding his own promotional company for boxing.
The rapper, who's been involved in a variety of business dealings outside of music, is calling his company TMT Promotions. (TMT so humbly stands for "The Money Team.") It's already acquired a license in New York and is working on doing the same in Nevada. More from SI:
In addition to working with longtime friend and pound-for-pound king Floyd Mayweather, industry sources say TMT Promotions is expected to sign former featherweight title holder Yuri Gamboa and super middleweight contender Andre Dirrell.
This is a venture Mayweather, an entourage member of Mr. Cent's (and vice versa), foreshadowed back in April. Only then, he mentioned 50 could also be getting into the ring. It remains to be seen if that will actually happen or if it was something that got missed during one of their stack-of-money business calls.
Photo: Jake Roth-US PRESSWIRE
By now you've surely heard about the tragedy in Aurora, Colo., where a gunman opened fire on moviegoers early Friday during a midnight showing of "The Dark Knight Rises." Reports have the death toll at 12 with many more left wounded.
The Denver Nuggets' summer league team paid tribute to those victims by wearing black headbands for their game against the Blazers in Las Vegas on Friday, as pictured above. Prior to the contest, a moment of silence was also held.
The suspect law enforcement has in custody has been identified as 24-year-old James Holmes.
Among the victims is budding sports reporter Jessica Ghawi.
Screencap via C.J. Fogler
Brett Lawrie against the Yankees on Wednesday showed people what Mike Trout meant when he said the Blue Jays third baseman plays "crazy hard."
Lawrie equal parts scared and impressed those watching when he sacrificed his body leaping over a railing and tumbling some five feet into a camera well when trying to make a play on a Mark Teixeira foul ball skied toward the dugout. He didn't make the catch. But still. "Good job, good effort!"
No surprise, Lawrie came away limping and left the game, but it wasn't so much slamming his body into the concrete floor as it was his leg banging on an adjacent railing on the way down. He's listed as day-to-day with a bruised calf.
But seriously though, is Mark Teixeira trying to maim everybody in Yankee Stadium's foul territory or something?
Back in October, when Chael Sonnen challenged Anderson Silva in front of the entire world, he upped the ante by throwing in a surprising "loser walks" wager.
"Anderson Silva, you absolutely suck," Sonnen said after manhandling Brian Stann at UFC 136, an event in which Silva was in attendance. "I'm calling you out Silva, but we're upping the stakes. I beat you, you leave the division. You beat me, I will leave the UFC forever."
Silva agreed to the fight, although Sonnen later backed off on his offer. But one devastating Silva knee to the chest (face?) and a TKO loss later, Sonnen still remains part of UFC even though he's reportedly considering retirement. However, Rampage Jackson is holding Sonnen to his word.
"He sucked … he should stick to his promise to leave the UFC," Jackson told MMA Elite. "He should go somewhere where people like his interviews and love the way he is, the way he talks s**t on everybody. I can't stand that boy. F*** Chael."
Of course Sonnen found out about those remarks. And of course the arguably biggest s-talker in the history of UFC wasn't going to bite his tongue. Here's his awesome rebuttal (via MMA Mania):
The fate of the Joe Paterno statue outside of Beaver Stadium has been at the center of a firestorm of debate since last week's release of the Freeh Report.
Now the person responsible for creating the statue has weighed in. Angelo Di Maria sculpted the seven-foot, 900-pound bronze statue, which was unveiled in 2001, and has mixed feelings on what should become of his work.
"I have to say, I can't be so bold, because I'm the artist, that I want it (to stay) up," Di Maria told The Philadelphia Inquirer. "That's what the public would expect me to think. I have to be clear with my conscience. I would go along with any just decision that is made. Not only am I compelled to take the side of the victims, but I consider also the feeling of the kids who went there (to Penn State), who have such a high regard for State College."
Even though he said he'd support any decision, you have to understand why he might show some reluctance in tearing down the statue. After all, this is a piece of his art, and, regardless of your feelings for its subject, there's obviously going to be some attachment to it. Di Maria is the second artist whose State College artwork has spiked in relevance in the last week.
Penn State's Board of Trustees has said the statue will stay standing for now. A final decision on the statue's fate reportedly will come within the next week to 10 days.
That hasn't stopped some people from going to creative lengths to make their own threats.
H/T Dr. Saturday
Last week at the ESPYs, Rob Gronkowski was interviewed by Outsports and asked about how he'd react if a teammate of his came out as a homosexual. Initially, Gronk was uncomfortable with the question and respectfully declined to answer in fear of saying the wrong thing.
Fair enough. That's his right. As we all know, Gronk, even if he means well, in the past has said some seemingly not-well-thought-out things. And who knows if the Patriots' gag order on him had already gone into effect. But eventually, Gronkowski got past his fears and came back to the interviewer with his answer:
"If that's how they are, that's how they are," Gronkowski said. "I mean, we're teammates so, as long as he's being a good teammate and being respectful and everything, that's cool."
Gronkowski is yet another NFLer who has said he'd be okay with having a gay teammate. It's a growing list that unfortunately has its opponents.
But for all the grief (or adulation) we give Gronk for acting like a dumb meathead jock. The dude actually does some pretty admirable things. But of course nobody talks about them.
H/T Shutdown Corner
Photo: Kirby Lee/Image of Sport-US PRESSWIRE
pixel2