Alex Rodriguez Likely Has Been Using Steroids Since High School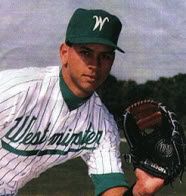 You knew it was only a matter of time before Alex Rodriguez got his name back in the news — and not because of his recovery from hip surgery. Selena Roberts' book on A-Rod is set to be released in the near future, so to drum up some interest she's leaked a few juicy details to the New York Daily News. One of the details is that A-Rod's Yankee teammates nicknamed him "bitch tits" because that's what he developed in '05 (likely because of steroids use). The most important detail, the one I knew was going to come out before long, absolutely destroys A-Rod's P.R. strategy for managing his positive steroids test from '03. While A-Rod tried to say he only used while with the Rangers from '01-'03, the book says he's full of crap:
[Jose] Canseco said he believes Rodriguez's steroid use goes back to his teens, when he was a high school standout in Miami.

"Was he on steroids in high school?" he said. "I think probably so. I worked out with him when he was 18. He could lift almost as much as I could."

Rodriguez put on 25 pounds of muscle between his sophomore and junior years, and word was that his connection was a dog kennel owner. A former high school teammate told Roberts the future No.1 MLB draft pick was on steroids and his coach knew it. Another student said the son of coach Rich Hofman admitted he saw Rodriguez use steroids.
As for the people who aren't bothered by steroids use, there's an allegation that A-Rod tipped pitches to opponents, hoping they'd do the same for him when he really needed a hit to pad his stats. Classic A-Rod — caring more about his stats than his team. That says everything you'll ever need to know about his character (as if we didn't already know what a giant piece of crap he is). Anyone who believed that A-Rod's roid use was limited to the Rangers years was naive and ignorant. Any high schooler who can lift as much as Canseco likely was on something. Oh yeah, this also destroys the notion that A-Rod's a natural talent who's been good ever since high school. There goes that argument.