Andruw Jones Back in Mid-Season Form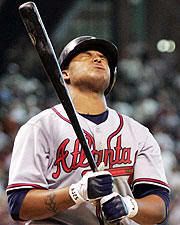 Just like Andruw Jones to go 0-for-5 with 4 strikeouts in his first game back from injury. I saw the numbers both he and Nomar put up in their rehab stint together, and I thought it was encouraging. Now, (finally) I'm beginning to come around and admit it was a horrendous signing even though I was originally for it. This guy is more clueless than Raul Mondesi at the plate. He doesn't even look like a major leaguer. So yeah, first game back and Nomar goes 2-for-4 with two doubles and two ribs, and Andruw goes 0-for-5, narrowly missing the Platinum Sombrero. And Anders(on) Varejao emailed in to let us know about Andruw's attempt at making the Club, but unfortunately Andruw had to ground out to third in his last at-bat, and once you put wood on the ball, you're automatically disqualified from contention (sadly). But with Andruw Jones, heavens knows there will only be brighter days.
The nice side for the Dodgers is with Pierre and Jones out, Andre Ethier had a chance to play everyday and show off his power. Dude has crushed like three 420+ foot bombs in the last week or so; his pop has been sick lately. But riddle me this: Ken Rosenthal says the Dodgers are a player in the C.C. Sabathia sweepstakes. First of all, I'll believe it when I see it. Second of all, they could use a stick much more than an arm in my opinion. And third of all, my absolute favorite part: Rosenthal says a potential deal for Jack Wilson could keep the Dodgers from getting Sabathia. That's right, the Dodgers might have to commit prospects to the Pirates for a shortstop OPSing .691 over his career. All I have to say is please tell me that's not true. Please tell me, Ned Colletti, that Jack Wilson wouldn't come between you and C.C. Sabathia. Now that would just be embarrassing.